Pruning Your Vegetable Garden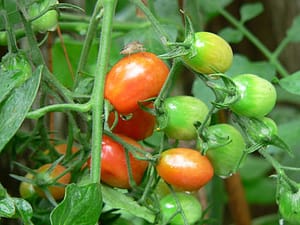 The first day of summer has arrived and your vegetable garden is thriving. Your tomato plant is lush with plenty of green foliage. A nearby cucumber plant is a brilliant tangle of spikey leaves and outstretching tendrils. Your garden may appear to be thriving but, the rich array of foliage is compromising your homegrown vegetable yields. Why? The plants are wasting resources to keep the green leafy braches flourishing. Meanwhile, the health of the developing tomatoes, peppers, and green beans is sacrificed.
To ensure a bountiful yield of vegetables, pruning, snipping or pinching green branches and plentiful flower blooms is essential. About one-third of the excess foliage on a plant should be pinched or clipped at the base of the branch (i.e. on a tomato plant) or stem of the leaf (i.e. on a cucumber plant). Squashes and green beans should too be considered for the pruning process. Overcrowding of developing vegetables is problematic, as well. In crowded areas, pluck ill appearing veggies. The goal of pruning is to concentrate the plant's energy into making food, not leaves. Pruning your vegetable garden ensures you can harvest large, nutrient filled vegetables.