Giamoni Case Study
Stamped Concrete Patio and Pool Deck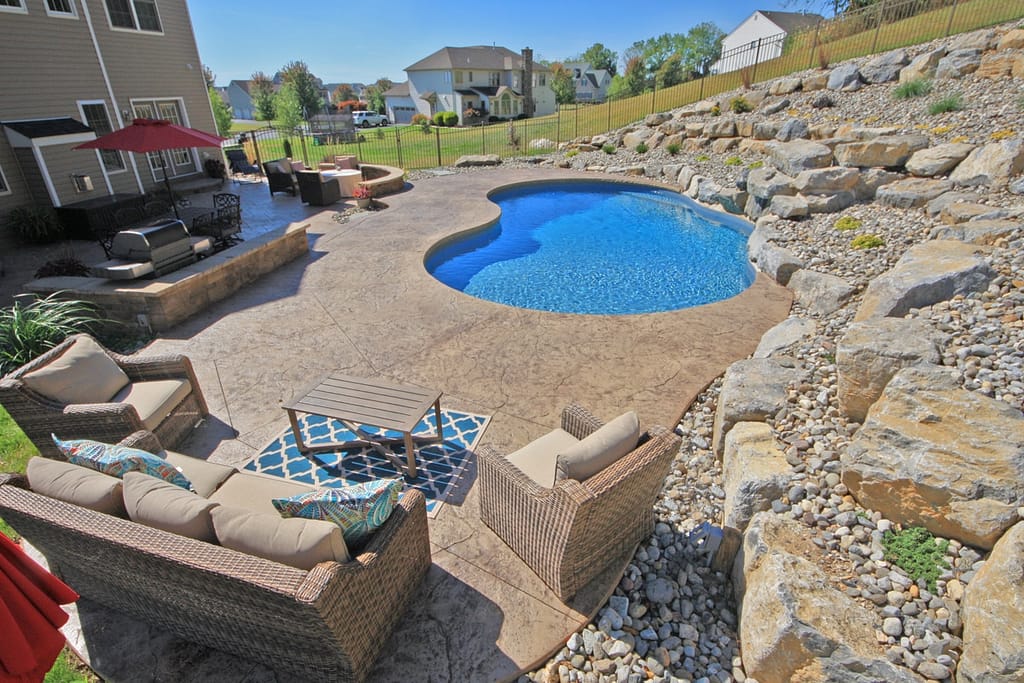 LOCATION: Nazareth, Pennsylvania
THE OUTDOOR SPACE:
The Giamoni's just recently had their house built in the last year and wanted to add one of our decorative stamped concrete patios for entertaining family and friends.  The patio design was to accommodate a possible second phase that would include a pool.
The backyard was all grass with slight incline for about 45 feet out from the house where it then makes a steep incline into the woods.  The back of the house faces north but most of the yard gets full sun because there are no large trees or any other structures in the way.
THE OUTDOOR LIVING WISH LIST:
Phase One:  Our clients were looking to take advantage of the amount of space directly behind the house.  They wanted the patio space to be large enough to accommodate an area for grilling and dining with an area for a fire pit as well.  They wanted to add walls on the two spaces.  They were looking for a modern style patio surrounded with decorative walls.   They also wanted to add planting beds around the patio to create a boundary.  The plant selection needed to be maintenance-free with color and interest throughout the entire year.
Phase Two:  Our clients wanted to install an in ground pool as a second phase.  The initial design for the patio was created so that the pool would be centered with the patio.  There would need to be enough space around the pool to make up for lost space on the back end.  The back side of the pool needed to have a boulder wall.  They requested to add a space that would allow for a future pavilion.
THE PATIO AND POOL DECK INSTALLATION:
The patio design that we created was about 800 sf.  The patio layout was designed to fit a rectangular table and an area for the grill on one side and for a round fire pit space on the other side.  We shaped the patio to accommodate what they wanted and added two Techo Bloc walls of a color that compliments the concrete color.  We added a curve in between the two space that would be the future transitional area for a step up into the pool space.  We used a slate style stamp in Beige and Brown color scheme.  We added undercap lights in the Techo Bloc sitting walls and step lights into the steps.
Three years after, the in ground pool was started.  A backdrop of boulders was added to the mountain side landscape on their property and the pool was installed.  We updated our pool deck layout to add spaces on each side of the pool to accommodate for the lost space on the back.  We used a fractured earth seamless stamp with the same color scheme.  The coping was done in a rock face stone finish.
STAMPED CONCRETE PATTERN:  Large Slate for the Patio; Fractured Earth for the Pool Deck; Rock Face Coping
STAMPED CONCRETE COLOR:  Straw Integral with Walnut