Soresi Case Study
A Stamped Concrete Patio with Landscaping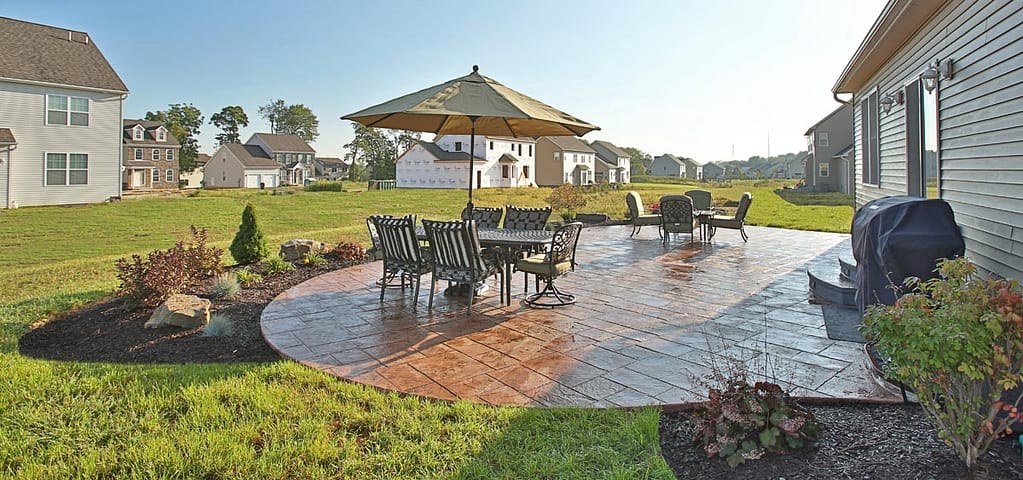 LOCATION: Bethlehem, PA
THE OUTDOOR SPACE
The Soresi's just recently had their house built and wanted to add one of our decorative stamped concrete patio's to accommodate family gatherings. Since the house was just finished, the backyard space was as simple as it gets: bare and flat.
THE BACKYARD WISH LIST
Our clients were looking to take advantage of the amount of space. They needed two large areas to host large gatherings of family and friends. We were to maximize space yet confine the areas so that it seemed like one room. Using curves in the patio was something we loved to do and it was what they were looking for as well. They also wanted to add planting beds around the patio to create a boundary. The plant selection needed to be maintenance-free with color and interest throughout the entire year.
THE PATIO AND LANDSCAPE INSTALLATION
Our design was a simple, double curve that expanded out wider than the total width of the main section of the house. The radius of the curves were planned to maximize space while keeping a safe distance from property lines and an easement. With plans to fence in the area, we wanted to concentrate on smaller shrubs and perennials to surround the patio. We added a beautiful Ever Red Japanese Maple and Dwarf Alberta Spruce as two highlight shrubs for each bed. Both will be key-plants for the winter landscape. We added some Fine Wine Weigela, Dwarf Fountain and Dwarf Blue Grass, Coral Bells and Daylilies to compliment texture and color to the planting plan. We also incorporated step lights in the decorative steps to create a safe transition from french door to the patio. They also look great!
"AMAZING, SIMPLY AMAZING!"
THE FINISHING TOUCHES
The following year we added to the landscape beds in the back by adding another bed along the side of the house and down into the patio.  For all the beds we added a Techo Block edging in a color that matches the concrete.  We also added planting beds to the front of the house as well.
THE STAMPED CONCRETE PATTERN: Large Slate
THE STAMPED CONCRETE COLOR COMBINATION:  Color hardener is La Cresenta Brown and the antiquing was done using a Charcoal color.